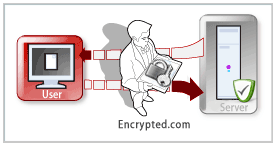 Let's discuss what is security security. 20% of all online security is in the technology itself while 80% is in the security policies or what we call the human factor. That 80% depends of the activity of system administrators, users, recipients but does not rely upon the strength of the firewall or brand of the router. Our CSN is developed with an understanding of those principles. The simplicity and built in limitations on the users activity makes our CSN a very powerful and secure solution for anyone individual of organization in need of this type of service.

Examples are simple:

Let's say you are sending sensitive e-mail overseas. Very often (especially in third world countries) the ISPs are sniffing all the content . Anything you send a text or binary file (Power Point presentation, Excel spreadsheet, Word document, images, video clips, etc.) will be captured, stored and available forsearch and display by those organizations.


Let's say you are hosted at a well respected company in US or an other developed country. Hackers could easily break in into one of the servers on the internal network of that hosting company, making your e-mails, files and data again available to that hacker.
These services are not for everybody!!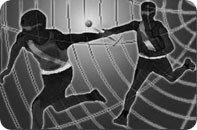 There are plenty of cheaper and less secure solutions, including free ones on the net. Also, while there is no 100% guarantee that any system is absolutely secure,we believe that CSN is as close to being 100% secure. And, in combination with its ease of use, you will find a vital applicaion for all serious businesses, entrepreneurs and organizations that must have private e-mail and file transfer services.

Click on our links. They describe in detail our secure e-mail and secure FTP services. You can start using these services almost immediately (As we offer secure services, we have make sure that you are a legitimate owner/individual/company/organization who isn't trying to use our services for purposes other than described above.)