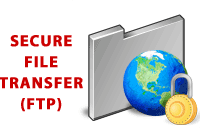 Encrypted Solutions offers secure file transfer system that enables you to place your files online via secure channel. Unlike other services, our system the only way to put your file on our system is to use third party client applications that will encrypted channel between your PC and our CSN.

When subscribing to our service you will receive one FTP account. You permanent FTP account will be your secure account. This is where you place your files securely online, for your eyes only. Your data will be encrypted on the way to our system and will be kept behind multiple firewalls at our secure location.

Pricing



For $10 per month,
You will get 10 GB of secure space.



If you are interested in this secure communications service for yourself, your business or your organization, please contact us.

Here is how it works:
After sign up, you will be informed about your secure FTP account with new login and password.
You'll then be able to upload files via our CSN.
THIS SERVICE IS NOT FOR EVERYONE!!
It is only for individuals/organizations that really need highly secure file transfer network which works even for International transfers.